Complete the experience
---

Aiden Zipper Bedding (King) - Minky Blend

$400

Aiden Zipper Bedding (King) - All Cotton

$410

Blair Zipper Bedding (King) - Minky Blend

$400

Blair Zipper Bedding (King) - All Cotton

$410

London Zipper Bedding (King) - Minky Blend

$400

London Zipper Bedding (King) - All Cotton

$410

Percale King Sheet Set (White)

$155

Percale King Sheet Set (Slate)

$155

Sateen King Sheet Set (White)

$155

Sateen King Sheet Set (Flint Gray)

$155

Percale Duvet Set King/Cal King (White)

$175

Percale Duvet Set King/Cal King (Slate Stripe)

$175

Sateen Duvet Set King/Cal King (White)

$170

Sateen Duvet Set King/Cal King (Flint Gray)

$170

All Seasons Duvet Insert (King/Cal King)

$135
King Trundle Mattress

$1,825

Staircase Handrail (Aluminum)

$395

Staircase Handrail (Wood)

$395

Upholstered Headboard

$575

Headboard Support System

$215

1.5 Degree Ladder (Upgrade)

$35

Additional Slats (per sleeping platform)

$95
Shown in Charcoal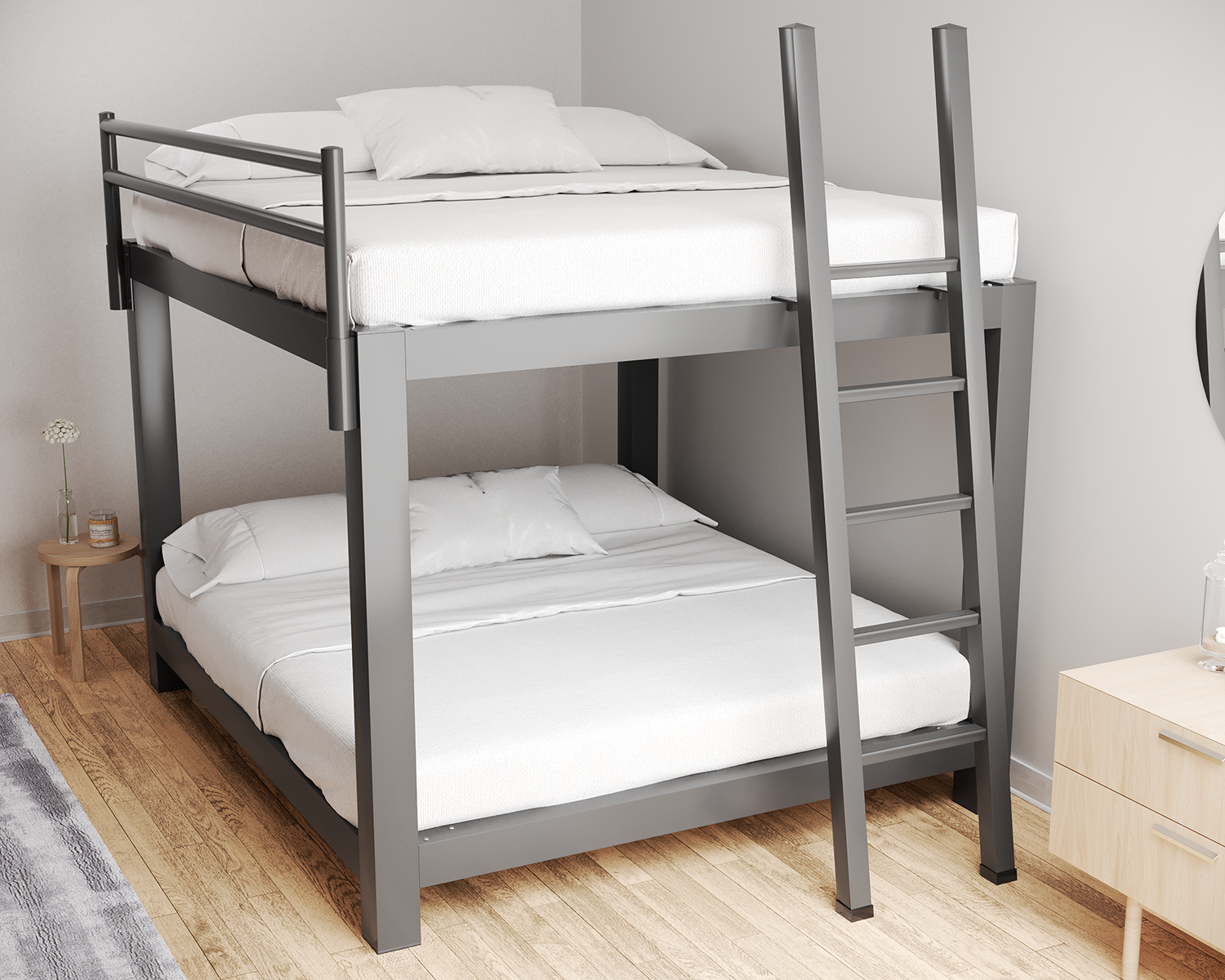 Product Name
Vacation Homes

Guest Rooms

Family Life

Couples
The King of Kings
Increase Your Room's Capacity Without Sacrificing Space or Style
Our King Over King Bunk Bed is a wonderful solution for guest rooms, vacation homes, rental properties, or hotels that regularly host large groups with limited space, as they allow you to comfortably fit multiple adults in a single room. Traveling couples and families will love the opportunity to share a bed in your bunk room without being cramped and appreciate the extra floor space. As bedroom furniture experts and one of the only companies that produces a king size bunk bed, we take pride in being able to help you provide all your guests with a safe and satisfying sleep experience.
Superior Craftsmanship
In order to create a King Over King Bunk Bed that can safely accommodate multiple adults, we use high quality aluminum that won't degrade over time with regular use and normal wear and tear. When combined with our innovative structural design, this heavy duty metal bunk bed frame can hold up to 2,000 LBS per sleeping platform.
Regal Design
With a stylish and elegant appearance that is both striking and subtle, our King Bunk Beds can seamlessly blend into any existing space or stand tall as the centerpiece of your bedroom. They're available in five decorative finishes, so you can select the color that best matches your home décor. In addition to its massive size, your guests will appreciate the bed's sophisticated design.
Customized to Your Needs
Our King Over King Bunk Beds can do more than just increase the space in your home or rental. In addition to allowing you to select the size and color of the bed that you need, you can also expand the practicality and functionality of your King Bunk Bed by choosing from a wide range of matching accessories, such as a staircase, tray, or pillow support for the bottom bunk. You can even add a trundle to squeeze in even more people and easily sleep up to six adult guests in a single room.
View All Accessories
Detachable Ladder
The detachable ladders that come standard with our elevated beds securely clip to the aluminum frame and will not move when they are being used. See below or visit our FAQ page for more ladder information.
Why We Use Aluminum to Build Our King Bunk Beds
Our King Over King Bunk Beds are built from high quality American aluminum, which provides an uncompromising foundation for our beds to offer maximum comfort and support. In this post, we dive into the top six reasons why alumium is the best option for these heavy duty metal bunk beds.
Read More
Mattresses
Complete your order with a comfortable and customizable 10-inch memory foam mattress.
Available in five firmness levels: Soft, Medium Soft, Medium, Medium Firm, and Firm

Removable and adjustable interior layers

Arrange your mattress up to nine different ways to find what feels best
If ordered as an accessory, mattresses come standard with Medium firmness. You can request different firmness options in the Special Instructions section at checkout.
Learn More
Using Bunk Beds to Build a Business
Unlock The Secret to Airbnb Success
When David and Tracy made the decision to buy their first rental property in Southern California's Coachella Valley, they knew that doing things the right way meant investing the time and money up front to create a unique experience for guests that would be satisfying on both an aesthetic and a practical level. That's where Adult Bunk Beds can help.
Read More
White Glove Delivery
Worried about assembling your new bunk bed on your own? Get a complete professional delivery experience with an expert touch. Try our new White Glove Delivery option!
Available for $495 per bed
This includes inspecting, assembling, and setting up your new bed frame(s).
Only available in the contiguous 48 United States
Upgrade your order with White Glove Delivery!
Learn More
Free Shipping
We offer FREE SHIPPING on all orders in the contiguous United States. Shipping to Alaska, Hawaii, Puerto Rico, and Canada is available for an additional fee. Due to recent increases in freight costs, orders to Oregon and Washington State are also subject to additional shipping fees.
Contact us to discuss your options and pricing, or click here to generate an estimate for duties and taxes to have your bed shipped to Canada.
Preserving a Family Tradition with Adult Bunk Beds
After five decades of vacationing at Folly Beach, South Carolina, Joyce and Rad purchased an ocean front property to host their ever-expanding family's annual gathering and utilized a pair of queen size Adult Bunk Beds to make room for all of their loved ones.
Read More
Buy Now. Pay Later.
Pay over time* for as low as 0% APR for 12 months
We offer financing options that allow you order your new bed today and split your payments into monthly installments over 12, 24, or 36 months with competitive interest, including rates as low as 0% APR for 12 months.* Find out if you pre-qualify with the fast, streamlined online application.
Learn More
How to Maximize Airbnb Profits
Think Vertically with an Adult Bunk Bed
Interior design expert Marilynn Taylor breaks down the way that an Adult Bunk Bed will not only make your vacation rental more stylish, but also more profitable. Click below to learn how you can get the most out of your investment property.
Read More
American Made

Our beds are 100% made in the USA using aluminum sourced from Tennessee and constructed at our factory in Ohio. We offer discounts for US veterans with proof of military service.

Risk Free Trial

We offer a 60-day risk free trial with a refund for returned items, excluding the cost of shipping and handling to receive the bed at our factory. Please note that certain items and orders are non-refundable. Visit our Terms & Conditions page to learn more.

Eco-Friendly

The aluminum we use is 100% recyclable. We employ an entirely eco-friendly manufacturing process, which results in a product that can be safely salvaged with minimal environmental effects.

Stress Tested

Our beds have been stress tested by an independent third-party organization to verify their massive weight capacity of 2,000 lb per sleeping platform.
Click here to view the results of these load analysis tests.
Configure

Choose the style, size, height, and color of your bed and add accessories.

Order

Select your payment method and tell us where to ship your bed.

Manufacture

Once your order is received, we will start building your bed.

Assemble

Use the included tools and instructions to assemble your bed.
Adult Bunk Bed Assembly Video
*Subject to approval of credit application. Rates range from 0% to 29.99% APR, resulting in, for example, 36 monthly payments of $32.26 at 9.99% APR, per $1,000 borrowed. APRs will vary depending on credit qualifications, loan amount, and term. Bread® pay-over-time plans are loans made by Comenity Capital Bank.
Verified Purchase

Mike F. from Boise, ID

November 11, 2022

We think these beds are wonderful!!! In fact one came damaged, and your team immediately shipped out a touch up bottle of paint which was helpful.

Verified Purchase

Matt M. from Durango, CO

November 10, 2022

I ordered the King Over King Bunk Bed and needed it to arrive at a specific time as this was for a vacation home and I was going to be there for a week setting the place up. It arrived exactly on time which was great. Their assembly video made it very simple to setup, and it is well built and looks good. The bed did get some sway/movement on the top bunk as this was also the version for 10ft ceilings. I was planning on building a headboard for it, and once I did that and it was installed it was much more stable. I would recommend the pillow supports (optional accessories), as I think that would add the similar support that my headboard did. Other than that, very happy with it.

Verified Purchase

Tim F. from Ooltewah, TN

October 24, 2022

Extremely impressed with this bunk bed. It's enormous, but still manages to fit the space appropriately. There is a bit more sway in the frame than I'd like, but its immediately evident how well-made and solid the construction is. I would absolutely recommend this to anyone looking for a ton of space that could be fun for kids but also easily enjoyed by adults.

Verified Purchase

Janni S. from Sedona, AZ

October 23, 2022

We purchased the bed for our 4th guest bedroom. The bed arrived a month prior to estimated shipping date, which was a bonus. It was not easy to put together; it took my husband and I 2 days to complete and the pieces were very heavy. We requested the corner brackets, which I would recommend. Once completed, it is very sturdy, looks good, and will work great for family and grandkids!

Verified Purchase

Rachel L. from Amherst, OH

March 25, 2022

This bed is awesome and accommodates our large family, especially when relatives are visiting. Also, the kids love the fire pole!

Verified Purchase

Amy V. from Amity, OR

March 10, 2022

Absolutely love this bed! Easy to put the frame together, the construction is sturdy and I don't feel nervous in the top bunk like anything might collapse. My kids love the new height of the room and the bunks provided enough space between that I can easily sit up and not feel like I'm in constant danger of wacking my head. I'm enjoying the bookshelf at the top of the bed as it is super convenient for storing all those things that are needed by the side of the bed without having to clog up the limited space with a bedside table. The ladder attached easily and is sturdy enough that both my kids can climb it at the same time and it doesn't jiggle.

Verified Purchase

Angie L. from Thompson Station, TN

March 03, 2022

We freakin LOVE our King Over King Bunk Beds. We are in the airbnb business. We bought two. And we couldn't be happier. Guests love that they get a comfortable sleep in a big king size bed. And we love that we can sleep more people in a small condo. These bunks are sturdy, good quality, easy to assemble and the highlight of our Airbnbs. Follow us on Instagram for photos @theNashVillas.

Verified Purchase

Matthew S. from Hermitage, TN

August 11, 2021

What a great product! Sturdy, easy to assemble, and allows us the flexibility to have guests anytime! Customer service was also excellent. These are built from scratch, and it was really nice to get a call asking for clarification on something I submitted incorrectly. They caught the error and MADE THE TIME to call me back! 100% slam dunk! Thank you for giving us a quality piece of furniture and for also having a great culture around customer satisfaction!! Appreciate the entire team!

Verified Purchase

Chad H. from Clearwater Beach, FL

August 11, 2021

The bunk is perfect for our condo and allows for more sleeping space. Only downside, it can be a little wobbly when up in top bunk. Trying to find a solution to prevent the feeling of being wobbly.

Verified Purchase

Keri S. from Dillon, CO

August 11, 2021

Everything was great, the service, correct timing, but when the bed came, 2 boards were warped and it made our life very difficult for 2 hours. Had they not been it would have been straight forward, but in the meantime, holding the frame up, we needed to quickly borrow a shaver from a neighbor on a Sunday (thank god) and have our in-laws hold the bed standing for an hour! We had no other place to sleep that night since we sold the other bed that day. Frankly, it was stressful.

Verified Purchase

Arin Z. from New Market, AL

January 05, 2021

Exceptional service! Love the bed. Very sturdy and well made.

Verified Purchase

Dana A. from Surf City, NC

February 17, 2020

Everything from ordering,shipping and communication was great. The bed arrived and looked nice once assembled. Just one thing I recommend you do...I believe it would be wise to include corner support braces as a standard part of these beds. It was wobbly prior to receiving and installing the braces. Once braces were installed all was perfect. Bed felt solid and sturdy. My husband is a mechanical engineer so he has good ability to assemble things. I don't believe it had anything to do with how he put it together especially since the holes are all predrilled for assembly... it is what it is... so again, please start including these braces for people as part of the kit to avoid this problem and all will be well! I very much appreciate being sent the braces we needed, free of charge, as I feel the bed should have come with them anyway. It was mentioned other people had had the same issues. At the price point paid, again, just start throwing these in with the set and you shouldn't have any frustrated customers. Also, thank you for sending along some touch up paint with the braces. We hope to get many years use out of the king bunk and would purchase from your company again because of good customer service, good communication and a good product.

Verified Purchase

Tom H. from Lubbock, TX

February 07, 2020

King Over King Bunks for the Sleepover/Guest Room! Kids and Guests Love Them!! My Wife and Daughters helped with set up and this went smoothly. The shipping company damaged a few boxes with a couple of scratches to the bed, but fortunately these were not visible. And even if they had been, Customer Service sent us a bottle of touch up paint to repair the damage (should probably include a small bottle with each bed just for incidental touch ups). Overall Excellent And SOLID Beds and Amazing Customer Service. Highly Recommend!!

Verified Purchase

Clare P. from Omaha, NE

August 12, 2019

Grandkids and guests love it at the lake house.

Verified Purchase

Chris C. from Atlanta, GA

January 30, 2019

This furniture purchase was the most impactful and useful furniture solution I've ever made. Three adults and two dogs have been happily sleeping in the same room for nearly 6 months now. There's peace at home. Friends and guests always complement the bed when they visit. Highly recommend!

Verified Purchase

Scott Gottlieb from Manasquan, New Jersey

April 20, 2018

Love the beds- family and friends are amazed at king sized bunk beds- easy to put together and well built

Verified Purchase

Saundra C from USA

January 06, 2015

The bed has been a huge success, everyone that comes into our vacation rental leaves talking about the King over King bunk beds. The children of our first renters were so excited that they would not come down for hours except for food . We had to move some renters to another unit and before they left they asked to see the BUNK bed. They were very disappointed they did not get the condo on the beach with the bunk beds. The bed has been a huge success with everyone and is always the topic of conversation when they leave.

Verified Purchase

Cindy Montgomery from Illinois

October 29, 2013

I am a 51 year old mother of two boys, ages 14 and 11, both of whom have special needs. I am conservative in my spending habits. This king sized bunk bed is in my 11 year old's room. He has sleepovers with 5 boys. I sleep on the top bunk to get away from it all (that alone is worth the investment). Both boys can sleep together but apart. Even the dogs love it. My husband thought I was crazy at first, but now he understands how this bed encourages social interaction while maintaining privacy. It will be a great piece for when the boys get their first apartment too. Sturdy, HUGE and just plain old fun. Oh - and the customer service is 5 stars too.If you look at the price of other lame bunkbeds, why would you NOT buy this one? For a few dollars more you get so much more bed and quality.