Complete the experience
---

Pillow Set (Standard)

$105

Aiden Zipper Bedding (Queen) - Minky Blend

$360

Blair Zipper Bedding (Queen) - Minky Blend

$360

Blair Zipper Bedding (Queen) - All Cotton

$370

London Zipper Bedding (Queen) - Minky Blend

$360

London Zipper Bedding (Queen) - All Cotton

$370

Percale Queen Sheet Set (White)

$135

Percale Queen Sheet Set (Slate)

$135

Sateen Queen Sheet Set (White)

$135

Sateen Queen Sheet Set (Flint Gray)

$135

Percale Duvet Set Full/Queen (White)

$155

Percale Duvet Set Full/Queen (Slate Stripe)

$155

Sateen Duvet Set Full/Queen (White)

$150

Sateen Duvet Set Full/Queen (Flint Gray)

$150

All Seasons Duvet Insert (Full/Queen)

$115
Queen Trundle Mattress

$1,545

Staircase Handrail (Aluminum)

$395

Staircase Handrail (Wood)

$395

Upholstered Headboard

$575

Headboard Support System

$215

1.5 Degree Ladder (Upgrade)

$35

Additional Slats (per sleeping platform)

$95
Shown in Charcoal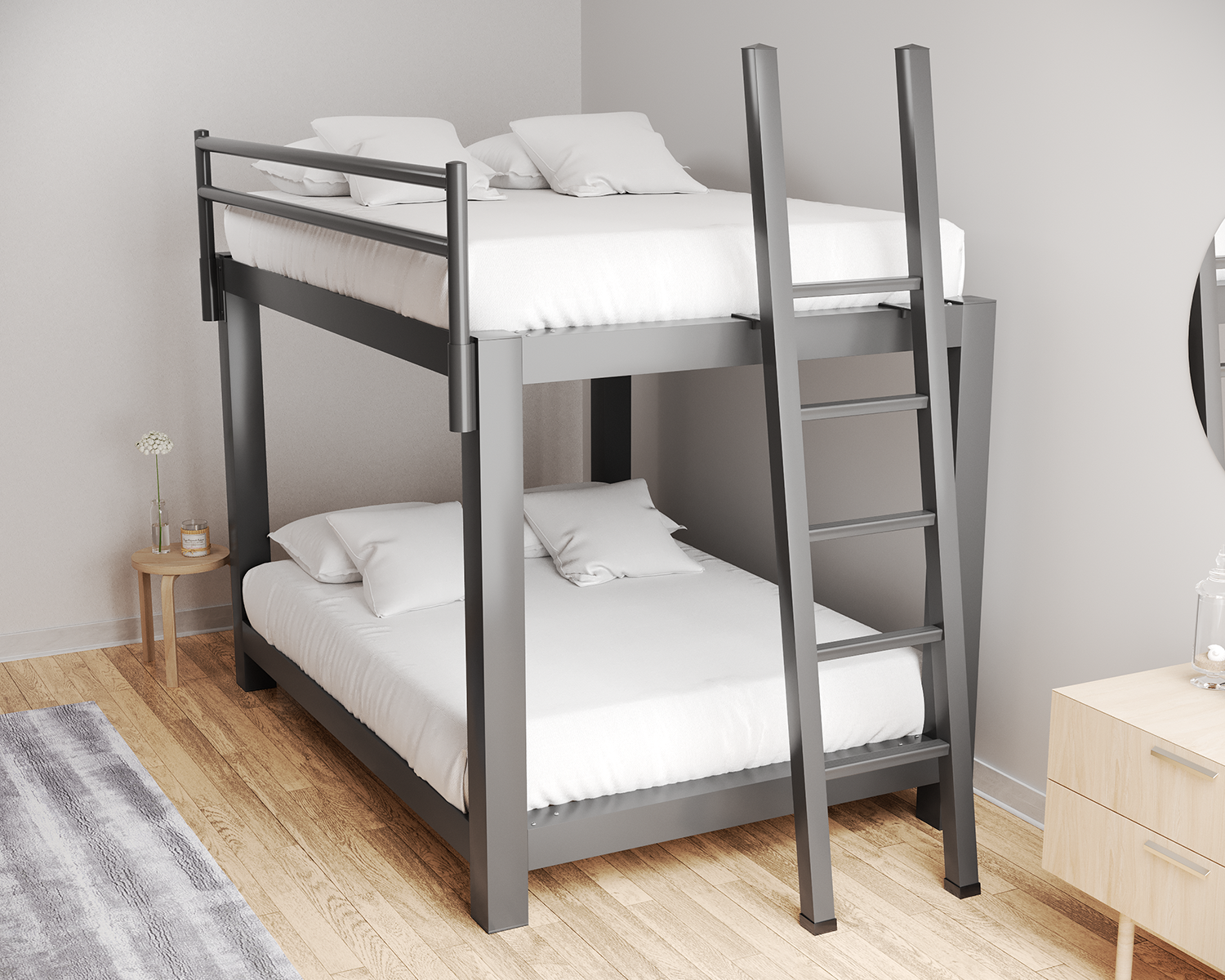 Product Name
Vacation Homes

Guest Rooms

Hotels/Hostels

Condos

Couples

Family Life

Interior Designers
The Queen Bunk Bed of Your Dreams
Double Your Sleeping Space with a Queen Over Queen Bunk Bed
The Queen Over Queen Bunk Bed is the perfect combination of strength, stability, and style. It offers a comfortable and safe place for adult guests to rest without taking up too much space. Each bunk holds up to 2,000 lb, making it possible for up to four people to sleep comfortably. Whether you have a guest room, vacation rental, or hotel, this remarkable bed is a great addition. With expertly handcrafted construction, you can say goodbye to sacrificing quality or space. Give your guests the luxurious experience they deserve with this queen bunk bed.
The Queen Bunk Bed with Ultimate Strength
Our Queen Over Queen Bunk Beds are designed for superior strength and endurance. The high-grade American aluminum structure can hold up to 2,000 lb of weight for each bunk. It's reliable, stable, and durable, so you know you'll get your money's worth over the years.
Make a Bold Statement with a Queen Bunk Bed
Queen Over Queen Bunk Beds combine sturdiness with stylishness. This makes them an exquisite addition to any living space - from beachside cottages to metropolitan condos. Their sleek and modern design is both subtle and statement-making. The Queen Over Queen Bunk Bed effortlessly fits into your style. Make an impression on your guests and leave them with something to talk about.
Crafted with Care - Your Dream Bunk Bed Awaits
Custom built bunk beds made to your specifications and handcrafted for guaranteed quality. Select the size, color, and accessories for your bed.
Get a queen bunk bed with stairs that provide easy access to the top bunk and extra storage. Add a trundle bed for extra sleeping space. We even offer storage drawers that slide under the bed frame. There are dozens of customization options to ensure you get the Queen Over Queen Bunk Bed of your dreams.
View All Accessories
Top Bunk Access
We offer two safe and reliable options for accessing the top bunk of your Queen Over Queen Bunk Bed:
A detachable metal ladder that clips to the frame and can be placed anywhere around the bed
A detached wooden staircase with extra cubbies that can rest anywhere along the bed frame
See below or visit our FAQ page for more information.
Queen Over Queen Bunk Beds for Your Vacation Rental
Do you want to maximize comfort, efficiency, and profitability in your vacation rental? Look no further than a Queen Over Queen Bunk Bed. This handy guide provides essential considerations for buying this space-saving piece of furniture.
Read More
Mattresses
Complete your order with a comfortable and customizable 10-inch memory foam mattress.
Available in five firmness levels: Soft, Medium Soft, Medium, Medium Firm, and Firm

Removable and adjustable interior layers

Arrange your mattress up to nine different ways to find what feels best
If ordered as an accessory, mattresses come standard with Medium firmness. You can request different firmness options in the Special Instructions section at checkout.
Learn More
Preserving a Family Tradition with Queen Bunk Beds
For fifty years, Joyce and Rad took vacations at Folly Beach, South Carolina. Recently, they invested in an oceanfront home, so that their large family could continue to gather together. To accommodate everyone, they used two of our Queen Over Queen Bunk Beds for adults.
Read More
White Glove Delivery
Worried about assembling your new bunk bed on your own? Get a complete professional delivery experience with an expert touch. Try our new White Glove Delivery option!
Available for $495 per bed
This includes inspecting, assembling, and setting up your new bed frame(s).
Only available in the contiguous 48 United States
Upgrade your order with White Glove Delivery!
Learn More
Free Shipping
We offer FREE SHIPPING on all orders in the contiguous United States. Shipping to Alaska, Hawaii, Puerto Rico, and Canada is available for an additional fee. Due to recent increases in freight costs, orders to Oregon and Washington State are also subject to additional shipping fees.
Contact us to discuss your options and pricing, or click here to generate an estimate for duties and taxes to have your bed shipped to Canada.
Using Queen Bunk Beds to Build a Business
Unlock The Secret to Airbnb Success
David and Tracy went big when they purchased their first rental property in the Coachella Valley. Their goal has always been to provide value and unique experiences to their clients. To pull off this new venture, they knew they needed to invest up front in style and quality. That's where our luxury Queen Over Queen Adult Bunk Beds come in. These mighty bunk beds provide a practical space solution and aesthetic charm that can't be matched.
Read More
Buy Now. Pay Later.
Pay over time* for as low as 0% APR for 12 months
We offer financing options that allow you order your new bed today and split your payments into monthly installments over 12, 24, or 36 months with competitive interest, including rates as low as 0% APR for 12 months.* Find out if you pre-qualify with the fast, streamlined online application.
Learn More
How to Maximize Airbnb Profits
Think Vertically with an Adult Bunk Bed
Interior design expert Marilynn Taylor breaks down the way that an Adult Bunk Bed will not only make your vacation rental more stylish, but also more profitable. Click below to learn how you can get the most out of your investment property.
Read More
American Made

Our beds are 100% made in the USA using aluminum sourced from Tennessee and constructed at our factory in Ohio. We offer discounts for US veterans with proof of military service.

Risk Free Trial

We offer a 60-day risk free trial with a refund for returned items, excluding the cost of shipping and handling to receive the bed at our factory. Please note that certain items and orders are non-refundable. Visit our Terms & Conditions page to learn more.

Eco-Friendly

The aluminum we use is 100% recyclable. We employ an entirely eco-friendly manufacturing process, which results in a product that can be safely salvaged with minimal environmental effects.

Stress Tested

Our beds have been stress tested by an independent third-party organization to verify their massive weight capacity of 2,000 lb per sleeping platform.
Click here to view the results of these load analysis tests.
Configure

Choose the style, size, height, and color of your bed and add accessories.

Order

Select your payment method and tell us where to ship your bed.

Manufacture

Once your order is received, we will start building your bed.

Assemble

Use the included tools and instructions to assemble your bed.
Adult Bunk Bed Assembly Video
*Subject to approval of credit application. Rates range from 0% to 29.99% APR, resulting in, for example, 36 monthly payments of $32.26 at 9.99% APR, per $1,000 borrowed. APRs will vary depending on credit qualifications, loan amount, and term. Bread® pay-over-time plans are loans made by Comenity Capital Bank.
Verified Purchase

Dana B. from Ball, LA

June 29, 2023

Beds are super attractive in my space. Well-made.

Verified Purchase

Shari P. from Sturgeon County, AB

June 29, 2023

Would give this 5 stars except the top bunk is pretty wobbly.

Verified Purchase

Joy G. from Incline Village, NV

June 28, 2023

The sturdiness of this bunk bed is outstanding. We've had a couple stay on the top bunk while a couple stayed in the bottom bunk and both commented on how sturdy the bed felt with the amount of weight. We bought this bunk based on feedback from our neighbors and we, in turn, would also recommend it to others. Great looking, too!

Verified Purchase

Crosby J. from San Diego, CA

June 28, 2023

The bed arrived without blemish and assembled without any issues. I'm impressed with the quality of the design and materials and manufacturing. Our bed was customized with an upper pillow support, which turned out exactly as desired. And the sales team was easy and responsive when coordinating that customization. We've only had the bed one night, but I am happy with the order and don't really have any complaints or even constructive criticism.

Verified Purchase

Kim B. from Port Clinton, OH

June 27, 2023

Francis Lofts and Bunks was awesome to work with. The ordering process was easy online. I called with additional questions, which were answered thoroughly and professionally. I highly recommend this company!

Verified Purchase

Michael M. from Harbor Springs, MI

June 27, 2023

Easy to order, difficulties with delivery and timeliness, Still waiting for refund because of inability to rush deliver. High quality product very sturdy.

Verified Purchase

Nicholas B. from Williams Bay, WI

June 24, 2023

On the upper bunk, the space between the mattress and the (head) wall is annoying. You should have something to fill in that space so pillows don't fall in while sleeping.

Verified Purchase

Clint H. from Corpus Christi, TX

June 23, 2023

Great engineering and design.

Verified Purchase

Mark M. from Waterloo, NE

June 22, 2023

5 Stars!

Verified Purchase

Brad P. from Wisconsin Dells, WI

June 21, 2023

5 Stars!

Verified Purchase

Mark D. from Burlington, NJ

June 21, 2023

I did not realize that the headboards were an option. Secondly, the bed wobbles. I would think with the sturdy frame and number of bolts, that it would be sturdier. I'm not complaining about the quality of the material. The plus to this purchase was the communication about delivery and the guys who actually delivered it. I give you 5 stars for that part of the process.

Verified Purchase

Liz K. from Valley Springs, CA

June 21, 2023

We also bought a Twin XL Bunk Bed. These are great for adults and kids. They are made of solid material. The reason for the 4 star review was that when someone laying in the other bunk moves, the beds shake and do not feel as sturdy as I would hope for the cost and material. I wonder if there's additional options for stabilizing the bed against the wall so that it is not so unstable when people move or climb into the bed? Also, the assembly is the pits. I really wish the company would provide assembly help options, even if it were for a price, I would buy it! We missed inserting one of the shelves and in order to put it on, we need to disassemble the entire bunk which is incredibly tedious. At this price point of furniture, assembly help really should be offered. Thanks!

Verified Purchase

Greg B. from Apopka, FL

January 01, 2023

Bed was relatively easy to assemble. Recommend two persons per the instructions. Bed is very sturdy and looks great. There was some minor shipping damage (two locations) which I was able to "hide" based on placement of the bed runners (you'll never see it). Came with all the tools needed to assemble, even a "tiny" hammer.

Verified Purchase

Suzanne S. from Marco Island, FL

November 19, 2022

The beds are extremely well-made and not difficult to put together if you follow the directions! It looks great and arrived when they said it would. We are extremely happy with our purchase.

Verified Purchase

Netti O. from Garland, UT

November 16, 2022

I love these queen size bunk beds. They were super easy to set up and are so well made they will last for decades. I love these beds. I'm using them for my kids and they will still be here when I have grandchildren. I absolutely adore the shelf steps!!! Easy and functional.

Verified Purchase

Steph C. from Bainbridge Island, WA

November 15, 2022

I think the bed is exactly how it is advertised. Not too hard to assemble, and all the parts fit. It doesn't have a "luxe" vibe because it's made of metal, but it's very functional.

Verified Purchase

Lari A. from Parker, AZ

November 11, 2022

Instructions were not very helpful and had to buy more hardware.

Verified Purchase

Angela C. from Strattanville, PA

November 11, 2022

Love our bunk beds! We have two queen sets and one twin set for our cabin. We constantly get compliments on them. They take a bit of time to assemble, but it's easy ( alot of parts).

Verified Purchase

Jennifer P. from New Buffalo, MI

November 11, 2022

The bed is outstanding. Incredibly well made. Best bunk bed for adults on the market.

Verified Purchase

Steve B. from Saline, MI

November 11, 2022

Nice looking bed made of high-quality materials. I had to add some additional bracing to keep it from wobbling is the only reason I am giving it four stars.
…