Complete the experience
---

Pillow Set (Standard)

$105

Blair Zipper Bedding (Full) - Minky Blend

$340

Blair Zipper Bedding (Full) - All Cotton

$350

London Zipper Bedding (Full) - Minky Blend

$340

London Zipper Bedding (Full) - All Cotton

$350

Percale Full Sheet Set (White)

$135

Percale Full Sheet Set (Slate)

$135

Sateen Full Sheet Set (White)

$135

Sateen Full Sheet Set (Flint Gray)

$135

Percale Duvet Set Full/Queen (White)

$155

Percale Duvet Set Full/Queen (Slate Stripe)

$155

Sateen Duvet Set Full/Queen (White)

$150

Sateen Duvet Set Full/Queen (Flint Gray)

$150

All Seasons Duvet Insert (Full/Queen)

$115
Staircase Handrail (Aluminum)

$395

Staircase Handrail (Wood)

$395

Upholstered Headboard

$575

Headboard Support System

$215

1.5 Degree Ladder (Upgrade)

$35
Shown in Charcoal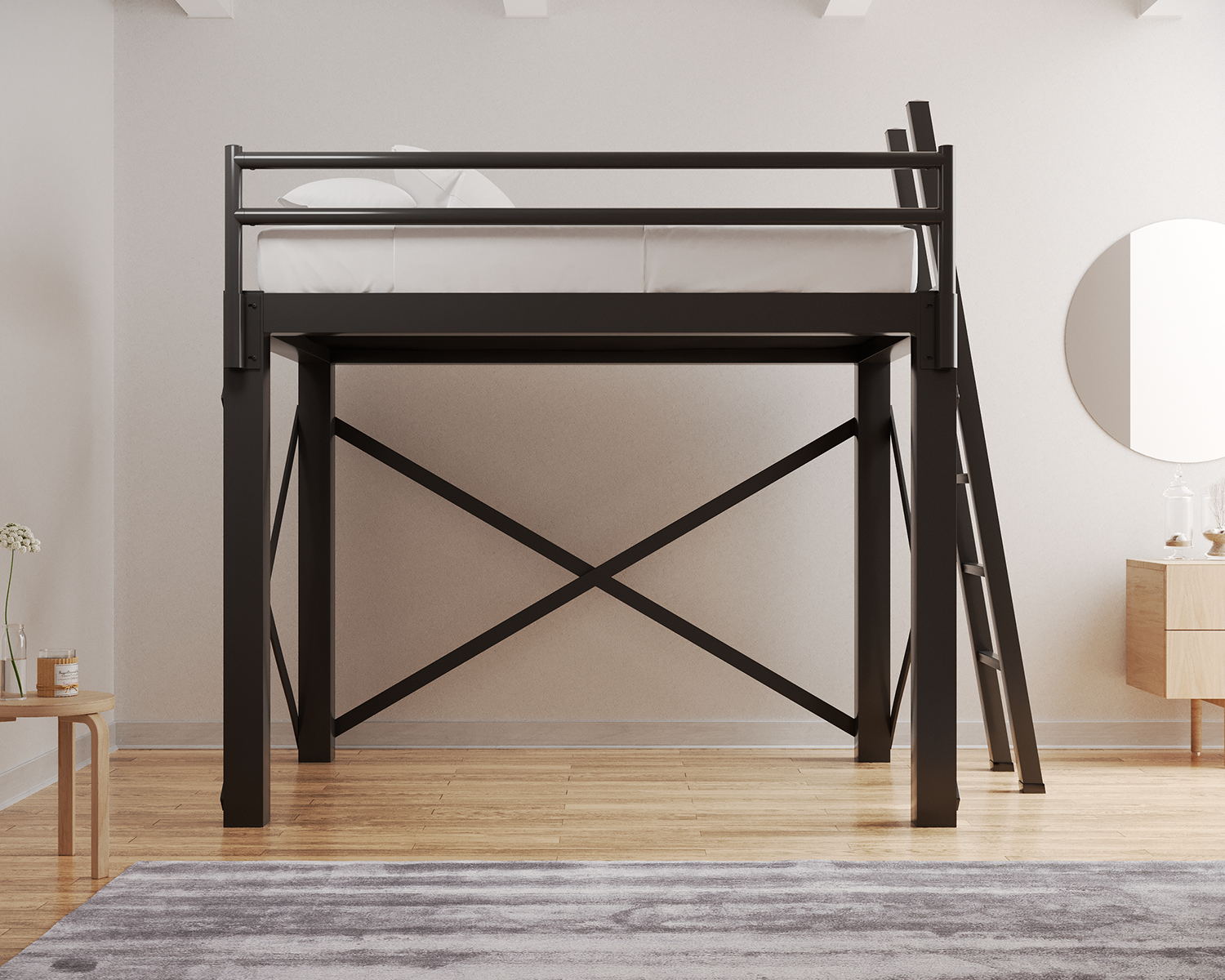 Product Name
Studio Apartment

Home Office

Tiny Homes

Condos

Dorms

Interior Designers

Teens
Elevate Your Sleep
Reclaim your room with the Full Loft Bed
Our heavy duty full size loft bed for adults is the perfect space-saving solution for any living situation. Elevate your sleep and maximize the space in your bedroom or apartment without sacrificing style or comfort. The massive 2,000 LB weight capacity means this bed is more than capable of supporting individual adults or couples of all shapes and sizes.
Sturdy and Dependable
Our beds can handle all aspects of adult life thanks to the high quality aluminum materials and innovative x-brace design. With a massive weight capacity of 2,000 LBS, these Full Loft Beds are more than capable of safely holding two adults and won't sway or move during use.
Grown Up Style
The Full Size Loft Bed is designed to compliment your adult sensibilities. With it's subtle and stylish appearance and five decorative finish options, this bed can seamlessly blend into any space or stand tall as the decorative centerpiece of your room.
Custom Built to Order
To ensure that every loft bed is as unique as the space it inhabits, we handcraft every bed to order based on the specifications that you configure. Select your ideal size and color, and then choose from a wide range of accessories that can expand the bed's functionality. Make getting in and out of bed easier with a staircase, add comfort and convenience with a tray, or create a built-in home office with a desk.
View All Accessories
Extreme Room Makeover: Adult Loft Bed Edition
Please note: Our Adult Loft Beds do require the use of x-braces on three sides of the bed to ensure maximum stability.
Detachable Ladder
The detachable ladders that come standard with our elevated beds securely clip to the aluminum frame and will not move when they are being used. See below or visit our FAQ page for more ladder information.
Loft Beds for Adult Life
Is a Full Loft Bed sturdy enough to support you?
Renowned sex positive psychologist, author, and speaker Dr. Liz Powell is also the former owner of an Adult Loft Bed from Francis Lofts & Bunks. Click below to read more about her experience and how our heavy duty loft bed was able to support her lifestyle.

Photo by Regina Felice Garcia
Read More
Mattresses
Complete your order with a comfortable and customizable 10-inch memory foam mattress.
Available in five firmness levels: Soft, Medium Soft, Medium, Medium Firm, and Firm

Removable and adjustable interior layers

Arrange your mattress up to nine different ways to find what feels best
If ordered as an accessory, mattresses come standard with Medium firmness. You can request different firmness options in the Special Instructions section at checkout.
Learn More
Reinventing a New York City Apartment with an Adult Loft Bed
John-Paul knew he was in for a major lifestyle change when he prepared to leave the one bedroom apartment he occupied alone in Minnesota for New York City, but an Adult Loft Bed has helped me make his new home feel like home.
Read More
White Glove Delivery
Worried about assembling your new loft bed on your own? Get a complete professional delivery experience with an expert touch. Try our new White Glove Delivery option!
Available for $495 per bed
This includes inspecting, assembling, and setting up your new bed frame(s).
Only available in the contiguous 48 United States
Upgrade your order with White Glove Delivery!
Learn More
Free Shipping
We offer FREE SHIPPING on all orders in the contiguous United States. Shipping to Alaska, Hawaii, Puerto Rico, and Canada is available for an additional fee. Due to recent increases in freight costs, orders to Oregon and Washington State are also subject to additional shipping fees.
Contact us to discuss your options and pricing, or click here to generate an estimate for duties and taxes to have your bed shipped to Canada.
How a Loft Bed Can Help You Declutter
We talk a lot about how our Adult Loft Beds can help solve the issue of space in your home — no matter what kind of home it is — but what does that actually look like in practice? Here are some ways that a loft bed can help you declutter and blast a bolt of joy into your life.
Read More
Buy Now. Pay Later.
Pay over time* for as low as 0% APR for 12 months
We offer financing options that allow you order your new bed today and split your payments into monthly installments over 12, 24, or 36 months with competitive interest, including rates as low as 0% APR for 12 months.* Find out if you pre-qualify with the fast, streamlined online application.
Learn More
American Made

Our beds are 100% made in the USA using aluminum sourced from Tennessee and constructed at our factory in Ohio. We offer discounts for US veterans with proof of military service.

Risk Free Trial

We offer a 60-day risk free trial with a refund for returned items, excluding the cost of shipping and handling to receive the bed at our factory. Please note that certain items and orders are non-refundable. Visit our Terms & Conditions page to learn more.

Eco-Friendly

The aluminum we use is 100% recyclable. We employ an entirely eco-friendly manufacturing process, which results in a product that can be safely salvaged with minimal environmental effects.

Stress Tested

Our beds have been stress tested by an independent third-party organization to verify their massive weight capacity of 2,000 lb per sleeping platform.
Click here to view the results of these load analysis tests.
Configure

Choose the style, size, height, and color of your bed and add accessories.

Order

Select your payment method and tell us where to ship your bed.

Manufacture

Once your order is received, we will start building your bed.

Assemble

Use the included tools and instructions to assemble your bed.
Adult Loft Bed Assembly Video
*Subject to approval of credit application. Rates range from 0% to 29.99% APR, resulting in, for example, 36 monthly payments of $32.26 at 9.99% APR, per $1,000 borrowed. APRs will vary depending on credit qualifications, loan amount, and term. Bread® pay-over-time plans are loans made by Comenity Capital Bank.
Verified Purchase

Kimber Mattingly from Charlottesville, VA

October 28, 2014

I love our new Francis Loft! It is rock-solid, easy to assemble, and sleek. The bronze color is perfect -- an industrial, masculine neutral. We anticipate that one of our teens will eventually claim the loft after college and get many more years of use from it

Verified Purchase

Kathleen Dunn from Brooklyn, NY

October 27, 2014

My son loves his francis bed! It is sturdy and attractive. He has painted and tagged it and it looks extremely cool. A very good choice for a teenager's room. We are very pleased with the purchase

Verified Purchase

Christian Mullane from New York

October 27, 2014

I plan on sleeping on the top but setting up my tv, xbox and some bean bags lengthwise below so I have a kick ass entertainment cave. It's going to be totally awesome and a great use of my tiny 6' x 10' room. I can tell you that this bed is phenomenal. It's easily the nicest furniture I have ever purchased, the finish is smooth and glossy and you can tell it's the product of quality manufacturing. There are several small details I really like, such as the bed only using 1 size hex bolt for the main construction (the bed rail uses a smaller size for the set screws). This makes assembly easier as you only need the 2 tools that came with the bed to put it together. The individual parts are lightweight but sturdy aluminum, instead of steel, which makes the bed feel solid but not clunky. The bed is not cheap but you get what you pay for. I would definitely recommend it to anyone looking for a stable, solid loft bed

Verified Purchase

W. Porciunucula from California

August 31, 2014

I could not wait to write an excellent review for your company regarding my purchase on one of your loft beds I received a few days ago. As you quoted, it would take 3 weeks for the delivery and the time frame was met. Thru email, you kept us informed the product was being shipped, weight and unloading instructions was more than appreciated. I could hardly wait to put it together the next day and it only took a couple of hours. Of course, I had to carry it upstairs piece by piece, as it was heavy and, I'm 76 years old, but your bed is very sturdy as you advertised. Our rooms are small, however we have 9 foot ceilings and the new bed has made our room more spacious looking than ever. We are very satisfied with your product and contemplating another purchase sometime for another one of our rooms that is a little bit bigger with a 91/2 foot ceiling. The same day I installed the bed, an earthquake (near Napa, CA) shook the house and the loft bed was ideal cover as a safety option. There was no damage to our house. I would recommend your product to friends and neighbors.

Verified Purchase

Julie K from Minnesota

June 20, 2014

We received our loft bed yesterday, and it is even better than I expected. Thank you for making such a wonderful bed - the quality and sturdiness is unsurpassed!

Verified Purchase

Kim Green Foster from Georgia

October 29, 2013

My son loves his bed! Thank you so much for your excellent customer service and attention to detail. Surprisingly my son fell out of the bed once. Perhaps the rails could be a little higher. Also, it squeaks a little...but it looks fabulous and has made my boy happy and proud. Thank you again.

Verified Purchase

Melanie Werner from New Jersey

October 29, 2013

This bed is perfect! It has allowed me to maximize the space in my bedroom and keep everything organized, I also like the fact that this bed can support a normal mattress and did not require a bunk mattress.