Complete the experience
---

Pillow Set (Standard)

$105

Blair Zipper Bedding (Full) - Minky Blend

$340

Blair Zipper Bedding (Full) - All Cotton

$350

London Zipper Bedding (Full) - Minky Blend

$340

London Zipper Bedding (Full) - All Cotton

$350

Percale Full Sheet Set (White)

$135

Percale Full Sheet Set (Slate)

$135

Sateen Full Sheet Set (White)

$135

Sateen Full Sheet Set (Flint Gray)

$135

Percale Duvet Set Full/Queen (White)

$155

Percale Duvet Set Full/Queen (Slate Stripe)

$155

Sateen Duvet Set Full/Queen (White)

$150

Sateen Duvet Set Full/Queen (Flint Gray)

$150

All Seasons Duvet Insert (Full/Queen)

$115
Staircase Handrail (Aluminum)

$395

Staircase Handrail (Wood)

$395

Upholstered Headboard

$575

Headboard Support System

$215

1.5 Degree Ladder (Upgrade)

$35
Shown in Charcoal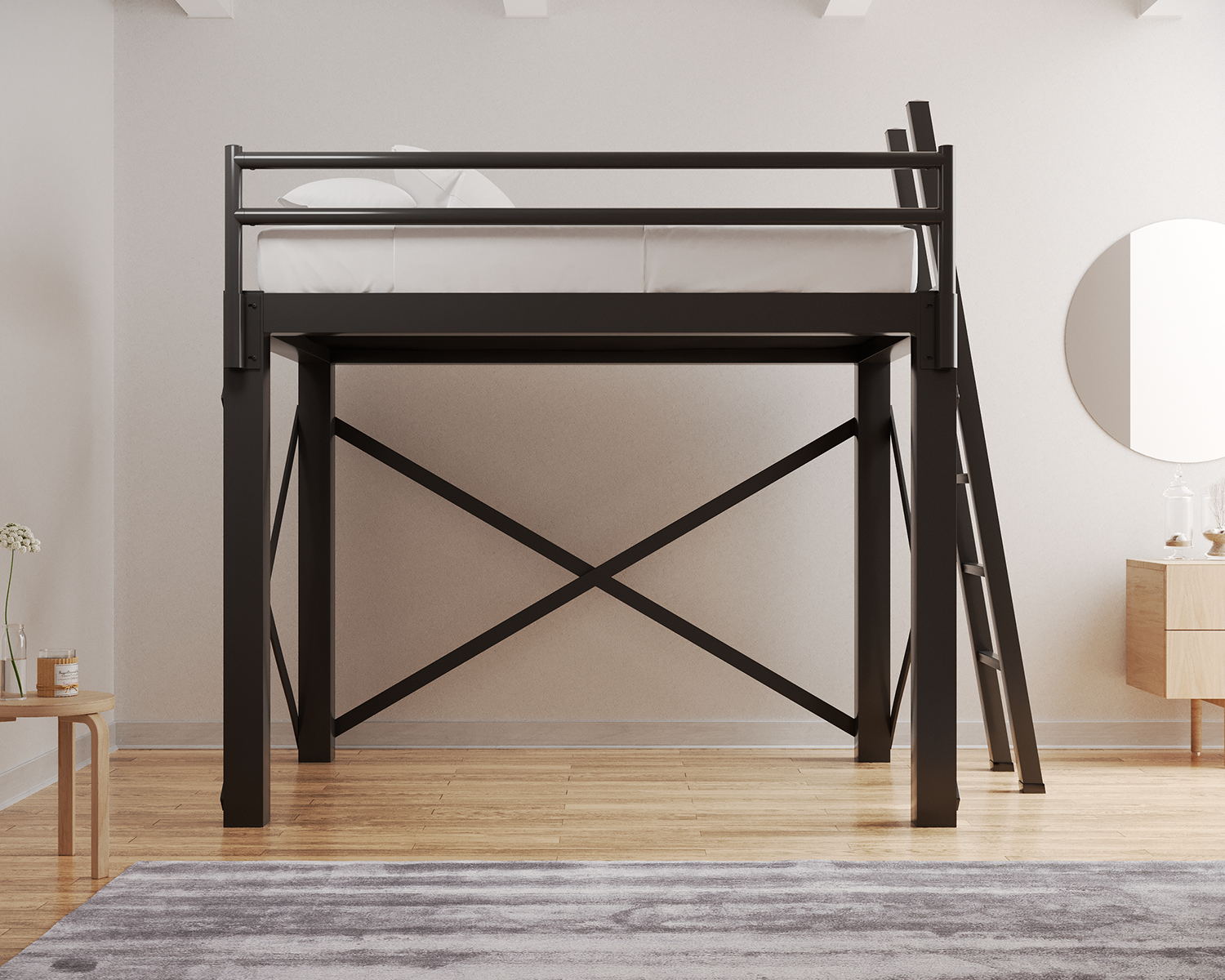 Product Name
Studio Apartment

Home Office

Tiny Homes

Condos

Dorms

Interior Designers

Teens
Elevate Your Sleep
Reclaim your room with the Full Loft Bed
Our heavy duty full size loft bed for adults is the perfect space-saving solution for any living situation. Elevate your sleep and maximize the space in your bedroom or apartment without sacrificing style or comfort. The massive 2,000 LB weight capacity means this bed is more than capable of supporting individual adults or couples of all shapes and sizes.
Sturdy and Dependable
Our beds can handle all aspects of adult life thanks to the high quality aluminum materials and innovative x-brace design. With a massive weight capacity of 2,000 LBS, these Full Loft Beds are more than capable of safely holding two adults and won't sway or move during use.
Grown Up Style
The Full Size Loft Bed is designed to compliment your adult sensibilities. With it's subtle and stylish appearance and five decorative finish options, this bed can seamlessly blend into any space or stand tall as the decorative centerpiece of your room.
Custom Built to Order
To ensure that every loft bed is as unique as the space it inhabits, we handcraft every bed to order based on the specifications that you configure. Select your ideal size and color, and then choose from a wide range of accessories that can expand the bed's functionality. Make getting in and out of bed easier with a staircase, add comfort and convenience with a tray, or create a built-in home office with a desk.
View All Accessories
Extreme Room Makeover: Adult Loft Bed Edition
Please note: Our Adult Loft Beds do require the use of x-braces on three sides of the bed to ensure maximum stability.
Detachable Ladder
The detachable ladders that come standard with our elevated beds securely clip to the aluminum frame and will not move when they are being used. See below or visit our FAQ page for more ladder information.
Loft Beds for Adult Life
Is a Full Loft Bed sturdy enough to support you?
Renowned sex positive psychologist, author, and speaker Dr. Liz Powell is also the former owner of an Adult Loft Bed from Francis Lofts & Bunks. Click below to read more about her experience and how our heavy duty loft bed was able to support her lifestyle.

Photo by Regina Felice Garcia
Read More
Mattresses
Complete your order with a comfortable and customizable 10-inch memory foam mattress.
Available in five firmness levels: Soft, Medium Soft, Medium, Medium Firm, and Firm

Removable and adjustable interior layers

Arrange your mattress up to nine different ways to find what feels best
If ordered as an accessory, mattresses come standard with Medium firmness. You can request different firmness options in the Special Instructions section at checkout.
Learn More
Reinventing a New York City Apartment with an Adult Loft Bed
John-Paul knew he was in for a major lifestyle change when he prepared to leave the one bedroom apartment he occupied alone in Minnesota for New York City, but an Adult Loft Bed has helped me make his new home feel like home.
Read More
White Glove Delivery
Worried about assembling your new loft bed on your own? Get a complete professional delivery experience with an expert touch. Try our new White Glove Delivery option!
Available for $495 per bed
This includes inspecting, assembling, and setting up your new bed frame(s).
Only available in the contiguous 48 United States
Upgrade your order with White Glove Delivery!
Learn More
Free Shipping
We offer FREE SHIPPING on all orders in the contiguous United States. Shipping to Alaska, Hawaii, Puerto Rico, and Canada is available for an additional fee. Due to recent increases in freight costs, orders to Oregon and Washington State are also subject to additional shipping fees.
Contact us to discuss your options and pricing, or click here to generate an estimate for duties and taxes to have your bed shipped to Canada.
How a Loft Bed Can Help You Declutter
We talk a lot about how our Adult Loft Beds can help solve the issue of space in your home — no matter what kind of home it is — but what does that actually look like in practice? Here are some ways that a loft bed can help you declutter and blast a bolt of joy into your life.
Read More
Buy Now. Pay Later.
Pay over time* for as low as 0% APR for 12 months
We offer financing options that allow you order your new bed today and split your payments into monthly installments over 12, 24, or 36 months with competitive interest, including rates as low as 0% APR for 12 months.* Find out if you pre-qualify with the fast, streamlined online application.
Learn More
American Made

Our beds are 100% made in the USA using aluminum sourced from Tennessee and constructed at our factory in Ohio. We offer discounts for US veterans with proof of military service.

Risk Free Trial

We offer a 60-day risk free trial with a refund for returned items, excluding the cost of shipping and handling to receive the bed at our factory. Please note that certain items and orders are non-refundable. Visit our Terms & Conditions page to learn more.

Eco-Friendly

The aluminum we use is 100% recyclable. We employ an entirely eco-friendly manufacturing process, which results in a product that can be safely salvaged with minimal environmental effects.

Stress Tested

Our beds have been stress tested by an independent third-party organization to verify their massive weight capacity of 2,000 lb per sleeping platform.
Click here to view the results of these load analysis tests.
Configure

Choose the style, size, height, and color of your bed and add accessories.

Order

Select your payment method and tell us where to ship your bed.

Manufacture

Once your order is received, we will start building your bed.

Assemble

Use the included tools and instructions to assemble your bed.
Adult Loft Bed Assembly Video
*Subject to approval of credit application. Rates range from 0% to 29.99% APR, resulting in, for example, 36 monthly payments of $32.26 at 9.99% APR, per $1,000 borrowed. APRs will vary depending on credit qualifications, loan amount, and term. Bread® pay-over-time plans are loans made by Comenity Capital Bank.
Verified Purchase

Matt M. from Carlsbad, CA

August 12, 2021

Excellent quality and design.

Verified Purchase

Jack B. from Pascagoula, MS

August 12, 2021

True to size, sturdy, and a true space saver for small rooms. Add top-notch customer service on top of a great product and it makes for an overall great experience shopping with this company. The bed is sturdy and light weight for its size and easy to assemble. the only thing I would do differently is have an extra hand or two to help put it together, but assembly can be done by one individual.

Verified Purchase

Shannon L. from Midland, TX

August 12, 2021

Absolutely the best! Well built. Will last a very long time through teen years and college. Order and delivery process was quick and simple. Definitely recommend. Worth the money.

Verified Purchase

Caitlin D. from Puyallup, WA

August 11, 2021

Wonderful bed, easy to assemble, and feels wonderfully sturdy.

Verified Purchase

Donna D. from Wilmington, MA

August 11, 2021

I was so happy with my loft bed! I researched loft beds for months. This bed was going to be used by adults and wanted it to be strong enough to support them. It is strong sturdy and beautiful! I put a queen size bed under it looks awesome! Jeffie was very helpful with all my questions.

Verified Purchase

Chris S. from Wichita, KS

August 11, 2021

My daughter and I just put the bed up recently. It went together as directed and looks like the pictures. Very nice and attractive/industrial look. Haven't actually slept on it yet, our needs changed. It wobbles a bit, so I'm not at a 5 rating. I need to tighten everything up and see if the movement can be reduced.

Verified Purchase

Michael M. from New York, NY

August 11, 2021

5 Stars!

Verified Purchase

Lemessa J. from Queens, NY

August 09, 2021

I am pleased with the bed itself, but the 2 months it took to get it I was not pleased.

Verified Purchase

Brooke N. from Auburn, CA

August 06, 2021

Best quality imaginable!! Worth every cent!!!

Verified Purchase

Matt M. from Cincinnati, OH

August 05, 2021

I had been wanting a loft bed for a very long time. However, it was very difficult to find one that would cater to my size as a 6'2", 290 lb guy. I was pleasantly surprised to see just how well my new loft bed caters to my size. The frame is extremely sturdy and there's no jostling whatsoever. What's more, I purchased the steps/shelf unit so that my pets would still be able to crawl into bed with me. I did not expect it to hold my weight, but I was shocked to see that it held my weight with no problems - not a creak. I'm VERY happy with this new bed and I'm definitely recommending Francis Lofts & Bunks to my friends and family!

Verified Purchase

Elizabeth T. from Brooklyn, NY

August 04, 2021

Delivered on time, in five boxes as promised. I watched the assembly video online. Company recommends two people for assembly, however I was able to do it myself in about an hour and a half. It would definitely be easier with two people, though! I don't recommend trying to assemble alone unless, like me, you are a bit crazy and very determined. Directions were clear and the assembled loft is super sturdy and just right for my space. This is not a cheap product, but it is heavy duty, suitable for an adult lifestyle. I'm very pleased with the loft. Note: I did not purchase any of the accessories, just the basic loft, ladder, and guard rail.

Verified Purchase

Mordecai M. from New York, NY

August 04, 2021

We got a custom loft, five inches higher than usual to give us headroom to stand and walk under it. Nonetheless, it is rock solid. There is none of the wiggling and slamming against the wall that free-standing wooden lofts are subject to. The only caveats that I could mention are that I might have chosen to round the corners on the top of the ladder to provide a more pleasant experience climbing in and out of bed, and you really do need to have a thick enough mattress as recommended since the slats are widely spaced in the standard bed. Oh, and UPS in NYC does not have their act together. We did get prompt and full support from Francis Lofts & Bunks through that little saga.

Verified Purchase

Christopher L. from Granite Bay, CA

January 13, 2021

5 Stars!

Verified Purchase

Joshua R. from Minneapolis, MN

January 13, 2021

My only complaint is the pressure screws used to hold on the railing. Mine dropped and left 1.5 foot scratches down each end of the rail, gouged deep into the metal. I wish the rail mounts had been pre-drilled with holes that could support the railings with bolts instead. Otherwise, very happy. I set the entire thing up alone, easily, in maybe 6 hours (I was multitasking and not dedicating all my attention to it). When putting it together the frame felt like it might wobble but once all the bolts were tightened it was steady. I can't shake it even on purpose after I put the mattress on and I've had no issues. The stairs are beautiful and while they do wobble a little, so far they're holding up wonderfully. I like the ladder a lot more than similar ones I have seen online or in stores. My one suggestion to anyone considering purchasing a loft from Francis is to splurge on every add-on you think you might want in the future, as the pieces are custom made and not modular as far as I can tell. While I consider that a good thing, it also means I can't add curtains or shelves after the fact--and now I wish I had them! I have no regrets purchasing this bed. The employees were responsive and very nice helping me figure out my order correctly and get delivery straightened out. I definitely recommend this product!

Verified Purchase

Jennifer B. from Steamboat Springs, CO

January 13, 2021

Customer service was AMAZING through the entire process. The bed was super easy to put together. It took my husband and 12 year old daughter a couple of hours and she was ready to go. The bed is super sturdy and fits perfectly in her room, it also looks really nice. We couldn't be happier with our purchase and plan to get more for our son in the future.

Verified Purchase

Misty P. from Murfreesboro, TN

January 13, 2021

Amazing product! So sturdy, easy to put together. I wish I bought the desk and tray with this. It will last a lifetime

Verified Purchase

Fredson L. from Lake Elsinore, CA

January 08, 2021

Quality of the loft bed is great, it doesn't shake at all when I move around in it. I opted for the stairs instead of the ladder and the build and quality of it is just as sturdy and reliable. Keep up the good work!

Verified Purchase

Richard M. from San Jose, CA

January 05, 2021

The loft is high quality, and it shows in the product!

Verified Purchase

Sherry T. from Paris, TX

September 12, 2020

My son is extremely happy with your product and your service.

Verified Purchase

Kathy P. from Chapel Hill, NC

September 09, 2020

I purchased this loft for my 15 year old granddaughter for her birthday. It was very easy to assemble and she loves it. I'd send a picture, but if you have teenagers, you can probably know what the room looks like - grin! This bed is perfect. My husband and I built a single engine plane together, and he was very impressed with the materials and construction of this loft. My 12 year old granddaughter is now lobbying for her own. Her sister has told her she has to wait until her 15th birthday!