Complete the experience
---

Pillow Set (Standard)

$105

Aiden Zipper Bedding (Queen) - Minky Blend

$360

Aiden Zipper Bedding (Queen) - All Cotton

$370

Blair Zipper Bedding (Queen) - Minky Blend

$360

Blair Zipper Bedding (Queen) - All Cotton

$370

London Zipper Bedding (Queen) - Minky Blend

$360

London Zipper Bedding (Queen) - All Cotton

$370

Percale Queen Sheet Set (White)

$135

Percale Queen Sheet Set (Slate)

$135

Sateen Queen Sheet Set (White)

$135

Sateen Queen Sheet Set (Flint Gray)

$135

Percale Duvet Set Full/Queen (White)

$155

Percale Duvet Set Full/Queen (Slate Stripe)

$155

Sateen Duvet Set Full/Queen (White)

$150

Sateen Duvet Set Full/Queen (Flint Gray)

$150

All Seasons Duvet Insert (Full/Queen)

$115
Queen Trundle Mattress

$1,545

Staircase Handrail (Aluminum)

$395

Staircase Handrail (Wood)

$395

Upholstered Headboard

$575

Headboard Support System

$215

1.5 Degree Ladder (Upgrade)

$35

Additional Slats (per sleeping platform)

$95
Shown in Charcoal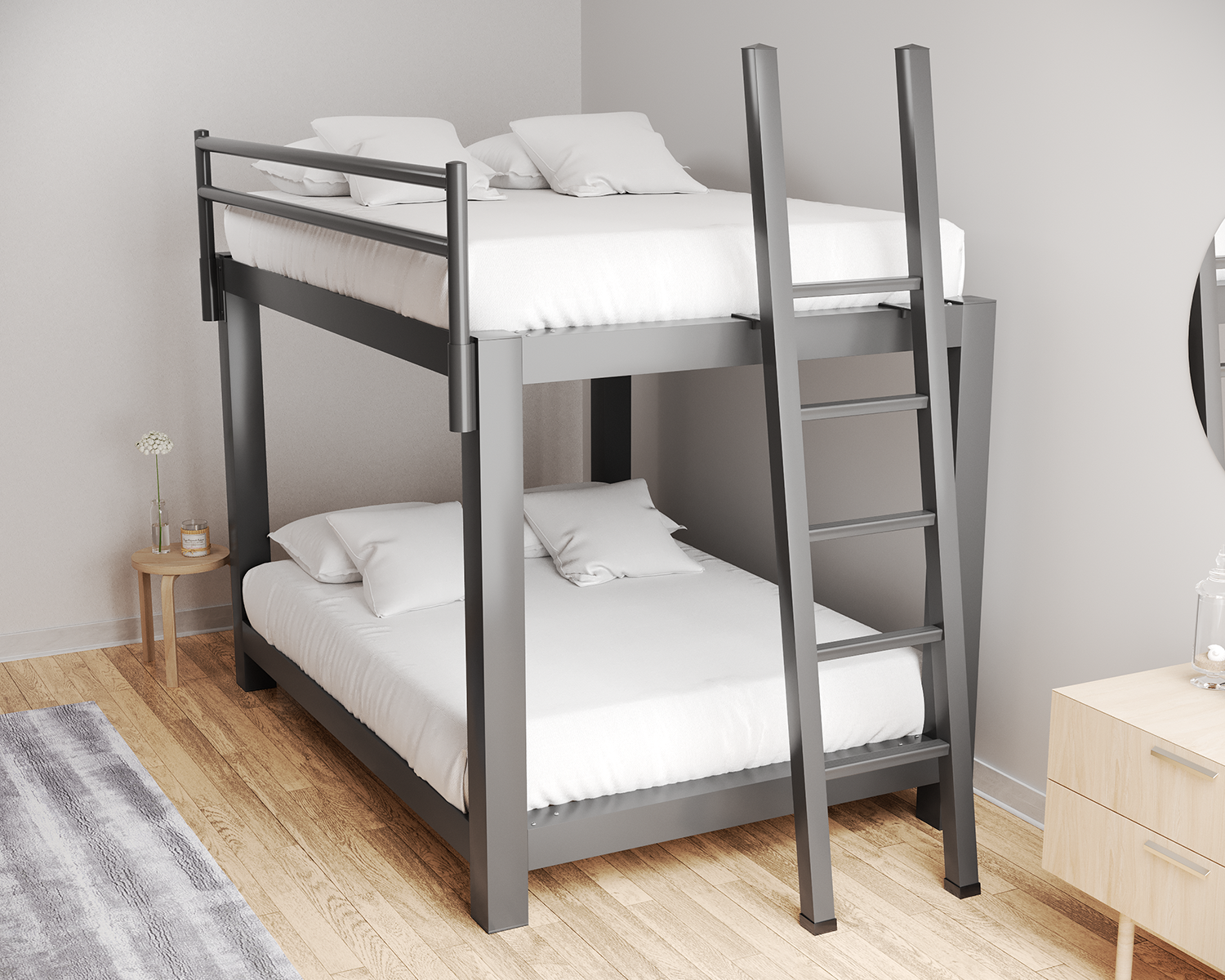 Product Name
Vacation Homes

Guest Rooms

Hotels/Hostels

Condos

Couples

Family Life

Interior Designers
Double Your Sleeping Space with a Queen Over Queen Bunk Bed
The Perfect Fit for Your Adult Guests
This bunk bed is designed for adults, so you can make the most of your guest room, vacation rental, or hotel space. It can comfortably sleep up to four people with its 2,000 lb weight capacity per bunk. Handcrafted construction offers superior strength and stability. You won't have to compromise space, safety, or style to fit more guests with the Queen Over Queen Bunk Bed.
The Queen Bunk Bed with Ultimate Strength
Our Queen Over Queen Bunk Beds are designed for superior strength and endurance. The high-grade American aluminum structure can hold up to 2,000 lb of weight for each bunk. It's reliable, stable, and durable, so you know you'll get your money's worth over the years.
Make a Bold Statement with a Queen Bunk Bed
Queen Over Queen Bunk Beds combine sturdiness with stylishness. This makes them an exquisite addition to any living space - from beachside cottages to metropolitan condos. Their sleek and modern design is both subtle and statement-making. The Queen Over Queen Bunk Bed effortlessly fits into your style. Make an impression on your guests and leave them with something to talk about.
Crafted with Care - Your Dream Bunk Bed Awaits
Custom built bunk beds made to your specifications and handcrafted for guaranteed quality. Select the size, color, and accessories for your bed.
Get a queen bunk bed with stairs that provide easy access to the top bunk and extra storage. Add a trundle bed for extra sleeping space. We even offer storage drawers that slide under the bed frame. There are dozens of customization options to ensure you get the Queen Over Queen Bunk Bed of your dreams.
View All Accessories
Top Bunk Access
We offer two safe and reliable options for accessing the top bunk of your Queen Over Queen Bunk Bed:
A detachable metal ladder that clips to the frame and can be placed anywhere around the bed
A detached wooden staircase with extra cubbies that can rest anywhere along the bed frame
See below or visit our FAQ page for more information.
Queen Over Queen Bunk Beds for Your Vacation Rental
Do you want to maximize comfort, efficiency, and profitability in your vacation rental? Look no further than a Queen Over Queen Bunk Bed. This handy guide provides essential considerations for buying this space-saving piece of furniture.
Read More
Mattresses
Complete your order with a comfortable and customizable 10-inch memory foam mattress.
Available in five firmness levels: Soft, Medium Soft, Medium, Medium Firm, and Firm

Removable and adjustable interior layers

Arrange your mattress up to nine different ways to find what feels best
If ordered as an accessory, mattresses come standard with Medium firmness. You can request different firmness options in the Special Instructions section at checkout.
Learn More
Preserving a Family Tradition with Queen Bunk Beds
For fifty years, Joyce and Rad took vacations at Folly Beach, South Carolina. Recently, they invested in an oceanfront home, so that their large family could continue to gather together. To accommodate everyone, they used two of our Queen Over Queen Bunk Beds for adults.
Read More
White Glove Delivery
Worried about assembling your new bunk bed on your own? Get a complete professional delivery experience with an expert touch. Try our new White Glove Delivery option!
Available for $495 per bed
This includes inspecting, assembling, and setting up your new bed frame(s).
Only available in the contiguous 48 United States
Upgrade your order with White Glove Delivery!
Learn More
Free Shipping
We offer FREE SHIPPING on all orders in the contiguous United States. Shipping to Alaska, Hawaii, Puerto Rico, and Canada is available for an additional fee. Due to recent increases in freight costs, orders to Oregon and Washington State are also subject to additional shipping fees.
Contact us to discuss your options and pricing, or click here to generate an estimate for duties and taxes to have your bed shipped to Canada.
Using Queen Bunk Beds to Build a Business
Unlock The Secret to Airbnb Success
David and Tracy went big when they purchased their first rental property in the Coachella Valley. Their goal has always been to provide value and unique experiences to their clients. To pull off this new venture, they knew they needed to invest up front in style and quality. That's where our luxury Queen Over Queen Adult Bunk Beds come in. These mighty bunk beds provide a practical space solution and aesthetic charm that can't be matched.
Read More
Buy Now. Pay Later.
Pay over time* for as low as 0% APR for 12 months
We offer financing options that allow you order your new bed today and split your payments into monthly installments over 12, 24, or 36 months with competitive interest, including rates as low as 0% APR for 12 months.* Find out if you pre-qualify with the fast, streamlined online application.
Learn More
How to Maximize Airbnb Profits
Think Vertically with an Adult Bunk Bed
Interior design expert Marilynn Taylor breaks down the way that an Adult Bunk Bed will not only make your vacation rental more stylish, but also more profitable. Click below to learn how you can get the most out of your investment property.
Read More
American Made

Our beds are 100% made in the USA using aluminum sourced from Tennessee and constructed at our factory in Ohio. We offer discounts for US veterans with proof of military service.

Risk Free Trial

We offer a 60-day risk free trial with a refund for returned items, excluding the cost of shipping and handling to receive the bed at our factory. Please note that certain items and orders are non-refundable. Visit our Terms & Conditions page to learn more.

Eco-Friendly

The aluminum we use is 100% recyclable. We employ an entirely eco-friendly manufacturing process, which results in a product that can be safely salvaged with minimal environmental effects.

Stress Tested

Our beds have been stress tested by an independent third-party organization to verify their massive weight capacity of 2,000 lb per sleeping platform.
Click here to view the results of these load analysis tests.
Configure

Choose the style, size, height, and color of your bed and add accessories.

Order

Select your payment method and tell us where to ship your bed.

Manufacture

Once your order is received, we will start building your bed.

Assemble

Use the included tools and instructions to assemble your bed.
Adult Bunk Bed Assembly Video
*Subject to approval of credit application. Rates range from 0% to 29.99% APR, resulting in, for example, 36 monthly payments of $32.26 at 9.99% APR, per $1,000 borrowed. APRs will vary depending on credit qualifications, loan amount, and term. Bread® pay-over-time plans are loans made by Comenity Capital Bank.
Verified Purchase

Ann W. from Macks Creek, MO

March 04, 2022

We were thrilled with our new Queen Over Queen Bunk Beds. They look wonderful. Fit in our cabin decor. Easy to assemble. Sturdy. Everything we saw in your advertisement was accurate. So glad we found your website and purchased from you!!

Verified Purchase

Deirdre K. from Brookhaven, GA

March 03, 2022

The Queen Over Queen Bunk Beds are the perfect addition to our home. It has worked well to convert our at home office into a guest bedroom for 4. Thank you so much!

Verified Purchase

Cissy A. from Fort Valley, VA

March 03, 2022

We got a Queen Over Queen Bunk Bed, and we love it. It is very sturdy and we need that as mostly adult men will be using the beds. I am a 60+ woman and put it together myself, which clearly speaks to the manufacturer. Thank you!

Verified Purchase

Amna A. from Woodland, CA

March 03, 2022

Awesome beds. They are sturdy, so easy to put together, look great, and are so convenient. No one believed me when I said I had purchased a Queen on Queen bunk bed, but it's been the best decision I've ever made. I wish I had purchased some more accessories and I probably will eventually, but I absolutely LOVE everything about my bed!

Verified Purchase

Wayne Q. from Berwyn, PA

March 03, 2022

Time consuming to assemble but instructions were spot on and very helpful. I ordered 3 of them (Queen Over Queen). Great beds. Very satisfied.

Verified Purchase

Paul M. from Eagle, ID

March 03, 2022

I've been a contractor for 26 years. I like things that are designed and engineered well. This product is just that! Once you get orientated with the parts, the links to the instruction video became the final touch that made this a 5 star product. This bed has a very sturdy presence and precision machined appeal in the aluminum structuring I would purchase the triple decker California King if I had the space and use for it. Although I'm using this Queen over Queen for my 4 boys 11 and under, I will be recommending this product to all my friends and business partners as a possible solution for AirBnb or Hospitality solutions for sure. I went ahead and installed a few 90deg metal brackets to the studs on the wall sides of the lower and upper braces and this bunk bed isn't going anywhere. Clearly a superior product.

Verified Purchase

Rick V. from Bradenton, FL

March 03, 2022

The top bunk bunk pillow support was not set up for proper installation. All the parts arrived, but holes were not drilled in the posts for installation. Call for assistance and template, tap screws and drill bit were sent. I completed the changes and installation with no further issues.

Verified Purchase

Jacquie C. from Venice, FL

March 03, 2022

The quality of this bunk bed is top of the top!! The concern for safety is obvious. The beds are incredible!!If you are considering bunk beds, I would highly recommend these from Francis Lofts!!

Verified Purchase

Marcie T. from Bothell, WA

August 27, 2021

So far this has been a fantastic purchase!! Both my roommate and I are very pleased with the beds. If I had any criticism, it would be that I'd love to see the beds have the criss-cross strength members on the ends, like on the loft beds, to prevent a bit of sway that the beds do have. Nothing that would prevent me from recommending the bunks, but just an observation after sleeping on the top bunk for a few months. Overall, a great purchase!!!

Verified Purchase

Deb K. from Moab, UT

August 15, 2021

We ordered 6 bunk beds, 4 queens and 2 twins, for nightly rentals. They arrived in perfect condition. They went together with a little effort. It did get easier with each one we put together. Instructions were good. They sent a wrong color on 1 piece and a replacement was quickly sent to us. We ordered 3 beds in one order and 3 several months later. There was a huge improvement with the ladders on the second order. They put a felt liner on the inside of the ladder hooks so it doesn't scratch the bar that holds the ladder up. All the beds on our first order have scratches where the ladder sits on the bar. These are not your typical bunk beds. They are very sturdy and sleep adults very comfortably. We have received many compliments from our guests.

Verified Purchase

Stacey F. from Eagle River, AK

August 13, 2021

We purchased this bed for our adult guests. It is extremely sturdy and well made, easy to assemble and our guests voiced they slept great. We had no doubt about the quality as we had purchased a loft bed the previous year. Thanks for such a great product.

Verified Purchase

Juli V. from Phoenix, AZ

August 12, 2021

My only complaint is that I didn't know of them sooner! After 13 years in the vacation rental business, I wish I could go back and apologize to all my adult guests who had to climb up and sleep in typical wood, creaky bunk beds on their vacation. This product is solid, sturdy, and their customer service is incredible! We love all their extra accessories too. We ordered the attached tray and lower bunk curtain. The installation videos were so helpful even though we were trying to get it build in a tight squeezed space. They were so willing to rush my order so it could be ready for professional pictures. We had the most terrible delays and errors because of UPS and our Frances Lofts & Bunks contact Jeffie stuck by us and helped us through-out that stressful process. Their communication and concern was outstanding. We will only be using this product in our future endeavors.

Verified Purchase

Katherine B. from Kihei, HI

August 12, 2021

Made well. Only Queen size that would ship to Hawaii.

Verified Purchase

Angela C. from Strattanville, PA

August 12, 2021

The bunk beds are built very well. Communication was great and they had no problem holding off shipping for a day so we could set up someone to be able to be there.

Verified Purchase

Steven E. from Harbert, MI

August 11, 2021

Love the bed, but it moves a little too much.

Verified Purchase

Greg E. from Edwardsville, IL

August 11, 2021

Everything good. Easy to put together. All works great.

Verified Purchase

Charles K. from San Jose, CA

August 11, 2021

Love it. Only problem was it needed to be anchored to the wall for swaying a bit. Nothing major.

Verified Purchase

Angie S. from Conroe, TX

August 10, 2021

Two of the pieces were bent. One I noticed before it was assembled and was able to return it, but the other I didn't see until it had been put together. Additionally, the beds are much more wobbly than I would have expected for the price.

Verified Purchase

Kellie M. from Austin, TX

August 09, 2021

We are extremely happy with our bunk bed! I put it together by myself (a 54 year old woman who is good with directions and mildly handy). It's sleek and sturdy and our adult sons (all over 6' and between 190-230 lbs) tell me they are comfortable with the extra headroom this larger bunkbed provides. Big thumbs up from my interior decorator too! Best of all, the bed arrived when promised vs furniture I have ordered from other manufacturers that have experienced delays. Highly recommend!

Verified Purchase

Tricia H. from Palm City, FL

August 09, 2021

Solid construction, good customer service. Highly recommend.
…